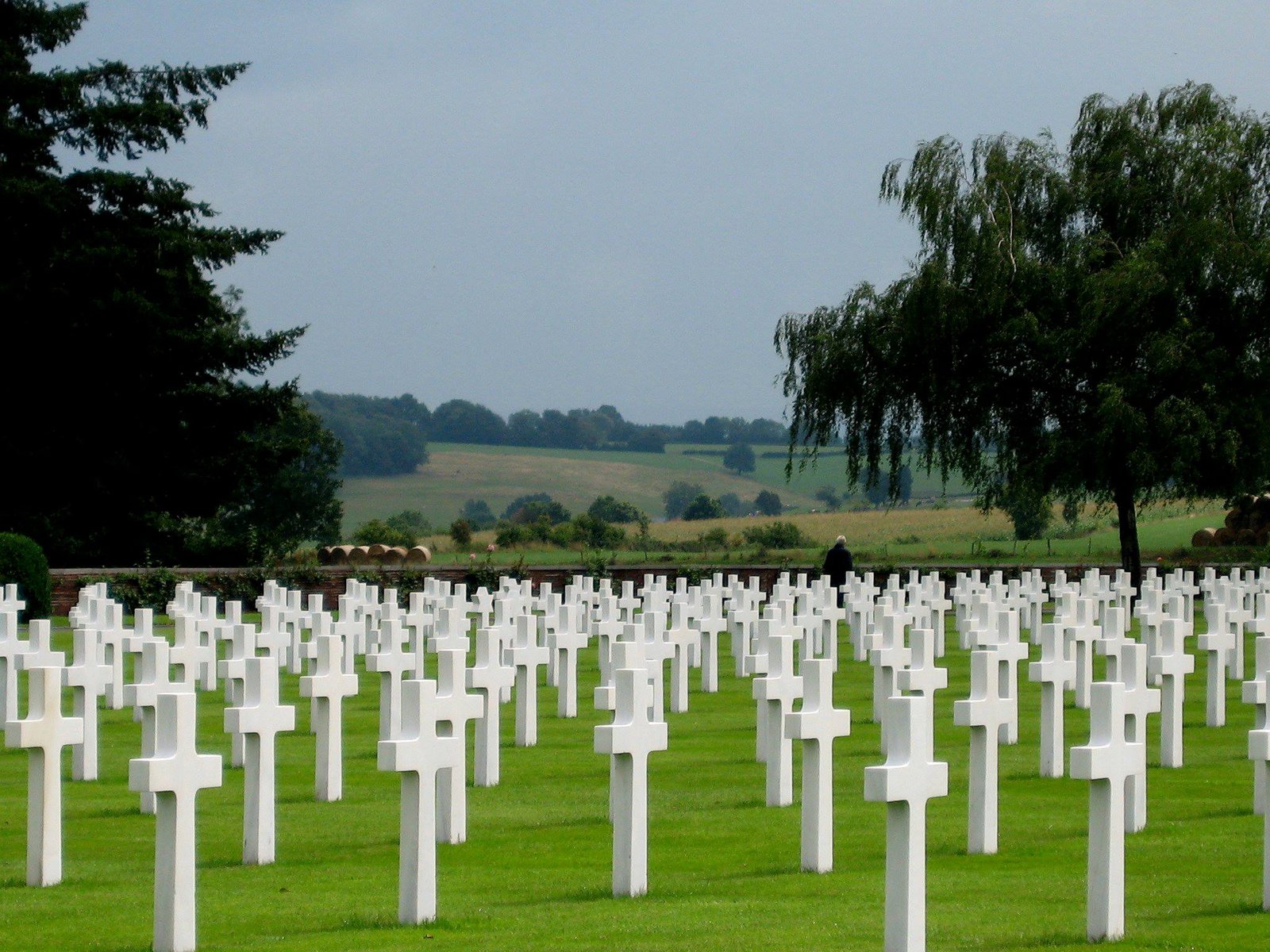 On June 6th 1994, the fiftieth anniversary of the D-Day Invasion of Normandy, France, George Ciampa went back to Europe for the first time after he served in World War II. He traveled there with Galaxy Tours with his two children, aged twenty-three and twenty-four, (Sandi and Michael) and his finance (Dorothy,) (His late wife, Doris, was deceased in 1981) Dorothy and George's children urged him to go as he was not interested in going back and recollect horrible experiences.
George also had the opportunity to go to France for the fortieth anniversary of the Invasion and refused to go. He did not want to relive the memories.
Upon arriving in Normandy for the fiftieth, those veterans on the tour were asked to recall their experience on D-Day. After George related his experiences, his son said, "Dad you never told us about that." George had never spoken to his late wife or children about the war experiences he had.
When he arrived in Normandy in June 1994 and walked through the Normandy Cemetery, George walked alone briefly through the graves and wondered about handling any of the dead who were buried there. These would have been the dead that were buried in temporary cemeteries that he with his company initiated. The remains of the dead were finally moved to the permanent Normandy Cemetery (code name was/is Omaha Cemetery) after the war by civilian workers.
After walking alone at the cemetery, he walked back to his children and fiancee and exclaimed, "Do you realize that the Date of Birth of the soldier is not listed on the monuments? ONLY THE DATE OF DEATH is there, which is sometimes estimated. He was very upset that visitors would not know the young age of some of the deceased when looking at the information on marble grave markers—so many eighteen, nineteen and twenty year olds, which ironically were his age, eighteen, when doing this ominous duty. George only weighed about 112 lbs when he landed on D-Day and then immediately had the task to bury so many of the dead. It was a very arduous, emotional time every day for him for eleven months 'til war's end in Europe on May 8th, 1945.
At the cemetery, that day, his daughter said to him, "Dad, I would like to do a documentary someday about the High Price Of Freedom."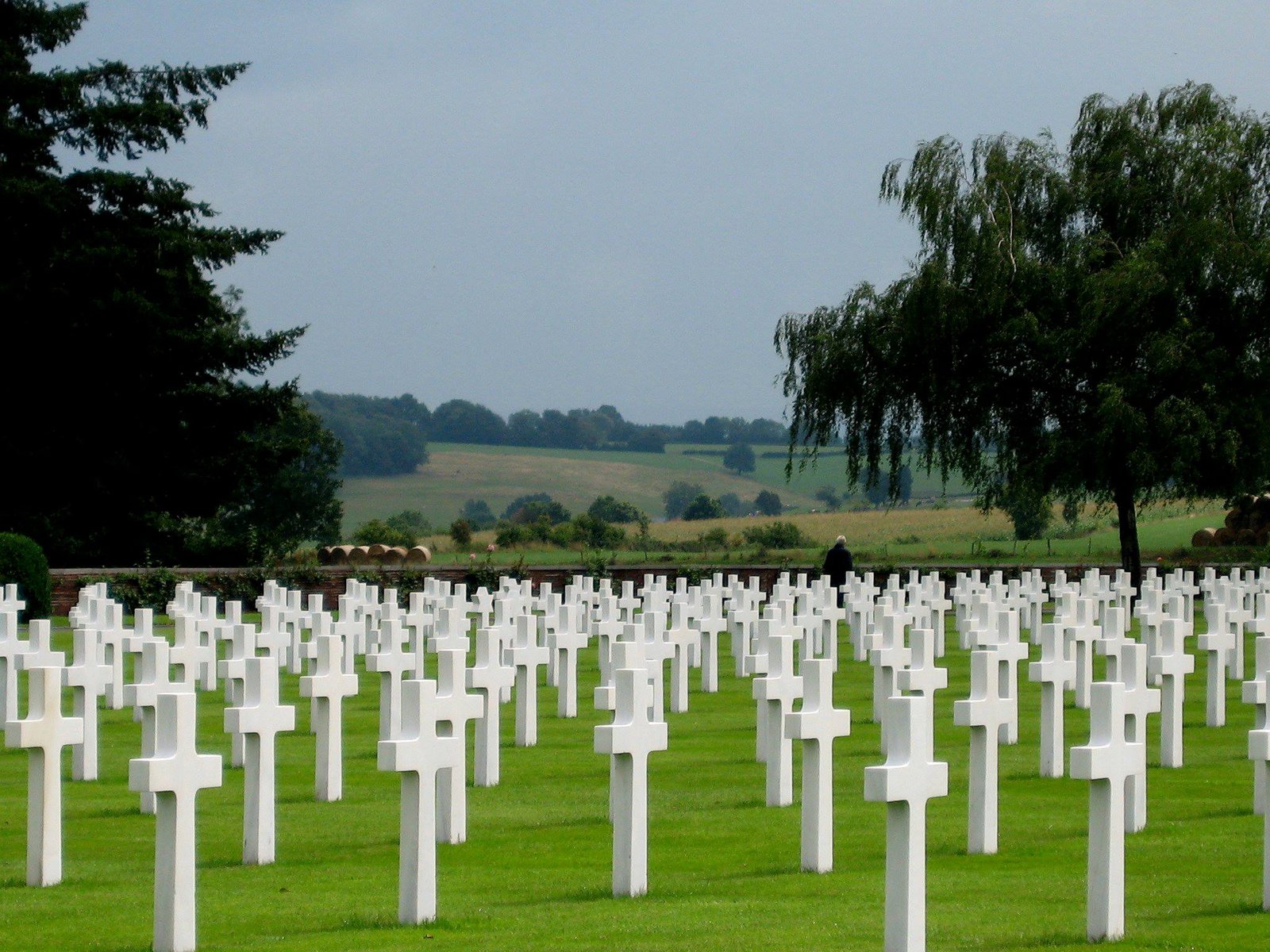 George Ciampa walking with his daughter, Sandi
Eleven years later in 2005, George decided to do a documentary with young high school history teachers after realizing through Belgian friends that some people from the Netherlands were going to the Henri Chapelle Cemetery and doing drugs in the overlook area and some were riding their motorcycles through the cemetery. (Drugs are legal in the Netherlands)
There was no respect for the dead as he was informed by Belgian friends who lived in the area. He spoke to a U.S. Army Retired General acquaintance and it was suggested that teachers should be taken there to teach reverence for those buried at this and other military cemeteries. But George thought that people, especially students, should also be taught about the high cost of FREEDOM. Teachers going to foreign countries that were occupied by Nazi Germany and speaking to civilians there who lost their freedoms would be a good source to teach their students what they learned as well.
YES, that can be done by documentaries, he thought. Teachers can be involved in these films by teaching what they learned to their students. He thought he would do this with his first film, "The Lesson Is Priceless." He did, successfully. One documentary turned into SIX over fourteen years.
In 2006, after raising funds and finding an affordable cinematographer, he wrote the script for a documentary. His daughter, Sandi, was a director in the film. He took four young high school history teachers and a few veterans who had served in the Battle of the Bulge, in Belgium, there with him and his crew. The teachers had the opportunity of interviewing Belgian citizens about their loss of FREEDOM when occupied by the Nazis. (These teachers are, since then, and currently (2021), showing the films in their history classes.) George often times speaks to those students who are watching the films.
From the first film, (2006) "The Lesson Is Priceless" to the current film, (2019) "D-Day Veterans Return To Normandy–75 Years Later"- a period of fourteen years, he has been totally involved in producing six films in France, Belgium and Germany. Awards have been won and in his "spare" time he has spoken to students in CA and a few other states plus in France and Belgium. These schools in the U.S. have mostly been high schools. In France and Belgium the students have been Special Needs Children, Elementary Schools, High Schools and a University. American veterans are well-received there. The European students appreciate a veteran coming back to speak to them–usually covered by newspapers and television.
Doing these documentaries have also been educational for George as well as for those who participated in the films. Producing these documentaries has been challenging, but very rewarding to him, personally.